While we await the next big thing in the drone market here are the best new drones on the market for July 2020 – With the DJI Mavic 2 just released a few months ago. And now the Mavic mini that is the best drone under 250 grams and the DJI Phantom 5 is set to be the best drones ever built for under $2k. But we are going to have to wait a while longer because the release dates are now set for spring 2019.
2020 Best Drones for Sale
Why Are These Drones So Great?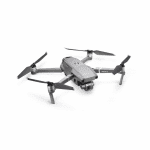 The DJI Mavic 2 just got released last August now comes in 2 flavors, the Pro version carrying a 1″ professional Hasselblad Camera camera for people who are serious about taking pictures and the Mavic 2 Zoom which has a high-performance 24-48 zoom lens. This is the upgrade from last year's model the Mavic Pro Platinum, and this drone is so much better by far.
With 31 minutes of flight time and a less noisy drone in the sky by the way of new propellers, You will also enjoy new features includes hyper-lapse, what could you ever ask for? It folds down as small as a bottle of water, making it small enough to bring with you everywhere. New OcuSync 2.0 transmission system offers you to see what the drone is seeing in real-time and better transmission (1080p). Fly at up to 44mph (70.811kmh) or for as long as 31 minutes. Active-Track 2.0, TapFly, and other smart features make a professional-looking video effortless. True 4K, fully stabilized ensures smooth footage. Obstacle Avoidance combined with 10 sensor redundancy increases flight safety and reliability. Vision positioning paired with GPS and GLONASS ensures precise positioning indoor and outdoors.
Key Specs
Camera Resolution: 20MP
Video Resolution: 4K at 30 FPS
Max Flight Time: 31 minutes
Max Speed: 44 mph in Sports mode without wind
Notable Attributes: Portability, Battery Life
The new Mavic Air shares a lot of similarities with both the DJI Spark and the Mavic Pro Platinum. Like those models, it's a small drone with a 12-megapixel camera and a handful of different flying and shooting modes. It's not targeted toward professionals, but rather travelers, hobbyists or enthusiasts who might be buying their first drone for aerial photography and videography and aren't satisfied with the Spark's limited creative options.
Key Specs
The ultraportable Mavic Air features high-end flight performance and functionality for limitless exploration
32 MP Sphere Panoramas
Foldable & Portable
3-Axis Gimbal & 4K Camera
3-Directional Environment Sensing
SmartCapture
21-Minute Flight Time
The DJI Phantom 4 v2.0 Advanced, DJI Mavic Air and the DJI Mavic Pro Platinum are on top for the best new drones 2020 they are small yet powerful drones that turn the sky into your creative canvas quickly and without any worry, helping you make every moment an aerial moment and a flight you will always remember.
Key Specs
Camera Resolution: 20 MP
Video Resolution: 4K at 60 FPS
Max Flight Time: 33 minutes
Max Speed: 49 mph (22 m/s) in ATTI mode, no wind
Notable Attributes: Dual-Operator Mode, Multiple Camera Systems
Weight (Battery & Propellers Included) 3.06 Pounds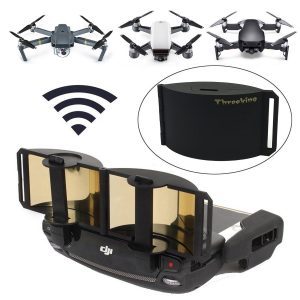 DJI Mavic Pro / Mavic Air / Mavic Pro Platinum / Spark signal booster  
Parabolic Technology: Accurate parabolic curved booster to make sure no bump or deformation on the reflecting panel! Meanwhile wholly reflects the remote signal to the antenna (the focal point of the reflector)
Made by top-quality copper and with mirror design, Effectively prevent oxidation and improve the reflect. Meanwhile foldable, no tools or modifications required, very easy to install and remove.
It significantly improves the transmitter and Wi-Fi video connection performance for DJI Mavic Pro / Spark in the open area.
LIFETIME WARRANTY, If you have any problems, please contact THREE KING TECH directly, that will be dealt with right now.[Please note: The drone & controller just for reference, not included!!!]

This Mavic sunshade is a must-have tool for all Mavic pilots, help you shoot professional quality images and video. Block the sun or another light source to prevent glare and lens flare.
Best Features:
Block the sun or other light sources to prevent glare and lens flare
Acquire better aerial photos & videos
Protects the gimbal in the event of a crash
Injection-molded with a smooth surface
Very comfortable hand feeling
Packaged included:
1 x Lens Sunshade only

For fast continuous burst mode shots, efficient post-production workflow, and high-performance video recording get the DXC UHS-I card. With write speeds of up to 90MB/s (1) and read speeds of up to 95MB/s (1), professionals can maximize the potential of their advanced drone camera equipment. UHS Speed Class 3 (U3) (2) allows you to record in 4K Ultra HD (3), taking your videos to next-level resolution. With a storage capacity of 512GB, the SDXC UHS-I memory card delivers the uncompromising results that professional photographers demand.
You will love this product. It adds a lot of ground clearance entirely enhancing the capabilities of your drone. With this fun little add on your drone can take off in the grass and somewhat rocky terrain. It is super compact when you take it off your drone. This product does not compromise the structural integrity of your Mavic. The added ground clearance protects your drones gimbal so why bother with the bubble. I strongly recommend this product to anyone with a Mavic Pro or DJI Mavic Pro 2.
Now DJI has another drone on their list, which makes them the 900 pound giant in the world. There are several very powerful drones you can purchase which sit below the DJI Inspire 2 cost. The DJI Phantom 4 Pro Advance, Mavic Air, and the Mavic Pro Platinum both offer good footage that would work for movie making also but only the DJI Inspire has it all in one package. So today the company is rolling out the Inspire 2, a new version of its high-end model, now aimed squarely at professional filmmakers. This is by far the best drone on the list but because of the price we gave it the third place. Drone 1 and 2 are very capable and ready to inspire as well.
Key Specs
Camera Resolution: 30MP in DNG RAW mode
Video Resolution: 5.2K at 30 FPS / 4K at 60 FPS
Max Flight Time: 27 minutes
Max Speed: 67 mph
Notable Attributes: Dual-Operator Mode, Two Cameras, Obstacle Avoidance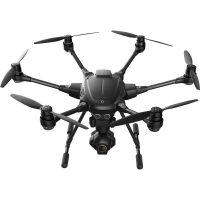 Typhoon H is a winner in our book. Have the best in class features for its price range. Also provides capabilities for enthusiasts previously only found in high-end professional drones The Typhoon H is equipped with six rotors, a 360-degree gimbal camera and retractable landing gear with Yuneec's standard of being ready out of the box, easy and safe to fly, with stunning Ultra HD 4K video and stills.  The 360-degree anti-vibration gimbal with the new CGO3+ camera allows unlimited panning for breathtaking Ultra High Definition 4K videos and 12-megapixel stills. The landing gear retracts during the flight to seamlessly remove itself from the shot for unobstructed views.
Key Specs
Camera Resolution: 12.4MP
Video Resolution: 4K at 30 FPS
Max Flight Time: 25 minutes
Max Speed: 43.5mph (70km/h) in Follow Me mode
Notable Attributes: Hexacopter = better redundancy, Obstacle Avoidance, 360-degree camera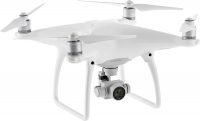 Good quality professional drones are pretty much of a rarity in the market these days. The DJI Phantom 4 Pro is one of the latest products on the market. How good is it?
Key Specs
Camera Resolution: 12MP Adobe DNG RAW
Max Speed: 45 mph (20 m/s) in Sport mode
Weighs a total of 1380 grams
Max ascent speed of 6 m/s
Max descent speed of 4 m/s
Max speed of 20 m/s
Operating temperatures of 32-104 degree Fahrenheit
Max Flight Time is equal to approximately 28 minutes
Notable Attributes: Battery Life, Obstacle Avoidance, Flight Modes
Pros-One of the best aspects of this drone is the fact that it is extremely user-friendly. The controls are simple enough to understand and operate. The drone is also very stable and flexible in comparison to other drones. Aesthetically, it is very appealing as well. The white coat of paint helps a great deal in that regard. Also, it has got one of the highest flight times one can ever ask for amongst all other drones in the market; This is the best drones for 2019.
Cons-There is no issues with the DJI Phantom 4 
Final Verdict-To put, in short, the DJI Mavic Drone and the DJI Phantom 4 is probably the best drones in the market as far as flight time, and video quality is concerned.
So, these are the best new drones out there on the market for you to buy. They have consistently received praise from users both online and off it. So if you are looking for the best new drones for 2018, you can always refer to this list for help.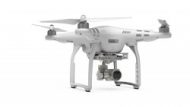 The DJI Phantom 3, just like its successor is one of the best quality drones in the market. How well does it match up compared to other drones of the same stature?
Key Specs
Total weight of the drone is equal to 1280 grams
Max ascent speed is equal to 5 m/s
Max descent speed is equal to 3 m/s
Operating temperature is from 32 to 102 degrees Fahrenheit
Max speed attainable is 16 m/s
Maximum image size – 4000 x 3000
Pros-Just like its successor, one of the best aspects of DJI Phantom 3 is the fact that it is simple to operate. Not only is that but its flight stability in the air also commendable and very steady. Video capture is also extremely smooth and comes with 4K capturing technology. The drone also has a built-in GPS function as well along with automated flight modes and "return-to-home" mechanisms.
Cons-Battery life, unfortunately, is not that high and limits the total flight time. Edge distortion is also a bit of an annoyance.
The final Verdict-The bottom line is that the DJI Phantom line provides one of the most refined flying experiences a person will ever experience on a drone. A must buy for someone looking for a good quality product but cannot afford the DJI Phantom 4 Pro.
---
Best New Drones Under $150 and .55 Pounds
Are you looking for the best drones under .55 pounds for 2019? Well, you are in the right place. With the new FAA rules effective December 21, 2015. Any person who own a Drone or Unmanned Aircraft System (UAS) over .55 pounds (lbs.) or under 55 lbs. Must register their drones before flying outdoors. People who do not register and get caught will face civil and criminal penalties.
Registration: Who must do it? A US Citizen or permanent resident 13 years of age or older.
Which Drone or UAS has to get registered?
Owner over 13 years of age or their parents, If the drone weighs over 0.55 lbs. And less than 55lbs. (25kg)  Registration fee $5 and you can register here.  Drone/UAS weighs over 55 pounds. must use a different registration process(Aircraft Registry Process)
In the year 2015, remote-controlled drones have seen a massive increase in popularity. While the reason for this sudden outbreak has been attributed to a lot of other factors, the fact that it is this way means that the market has changed quite a bit when it comes to electronics and electronic gadgets. You will find a lot of variety in these kinds of things in the market. From ones that cost around $100 to ones that are priced above $1000, you will find them all. And it's not just down to the price range either. People but these drones based on a lot of things. One of them is the weight.
So, if you are looking for the best new drones under $150 and .55 pounds, here are the Top 3 you can choose from for the best drones for 2018.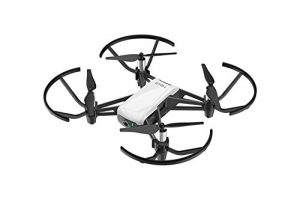 Whether you are in a park, at the workplace, or even hanging out in the home, you could always eliminate and go through the world from exciting new viewpoints. Tello includes two antennas that make video transmission additional secure plus also a high-capacity battery that provides incredibly extended flight times of 13 minutes.
Are you new to drones? No Problem, Flying Tello could not be simpler! Simply pull out your telephone to fly anywhere with intuitive controls.
Tello's lightweight, yet durable design together with hardware and software protection makes it so that you always have the option to fly with confidence. Automobile Takeoff/Landing. Lift or territory with one tap. Low Battery Protection, Alerts move off if your battery gets low. Vision Positioning System:Smart technology that facilitates exact hovering.
Best Features:
Flight Time: 13mins.
Flight Distance: 100m.
HD Transmission: 720P.
Smart Changing: Two Antennas.
Received 4.9 stars out of 5 in customer reviews, two colors to choose from
Best drone for beginners, Kids, 720HD live Camera and around $100.00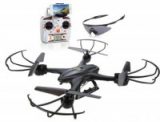 This drone happens to be one of the most highly rated drones in the current market. It is one of the highest-rated products on Amazon with a whopping 75% of the total buyers evaluating it as a 5-star product. One of the best features of this product comes in the form of an easy-to-use flipping button that gives the controller an almost gamepad-like feel. This makes it easy for the user to make it fly. The video capturing resolution of this drone comes in an impressive 1280×720 pixels which are evidently better than the majority of the drones in the market at a higher price. It also comes with four sensitivity mediums, a bonus battery feature, 11 minutes of flight time and a total of 12 blades. The drone is also equipped with a crash cage to protect it from damage. The Holy Stone has an excellent 720HD camera. It comes with different flight modes (4 in total). The controls of this drone are easy-to-use which make it our pick for high-quality drones for 2018 for around $150.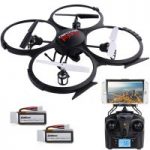 Received 4.7 stars out of 5 in customer reviews
The DBPower is an excellent drone! The coolest, most impressive and best adult-type toy I have ever bought for under $130!!  This is by far better than the other ones in the price range. The quality of the HD transmission is fantastic. I use my Samsung Galaxy S6 and stream live video and take exceptionally amazingly incredible aerial shots of the house, my property, and the neighborhood. My old drone only wished it could do all that. It is so easy to control and hover. I can do tricks and flips with it. This drone has a multi-axis gyro which makes it more stable and a lot easier to handle. It can fly super high, sometimes so high I feel like I'm going to lose control, but I don't. It comes with two batteries, which is so unusual, but so awesome. You always seem to end up with a dead battery just when you're having fun.
Received 4.5 stars out of 5 in customer reviews
#1 NANO Drone, No camera DRONE but best in class. Nano QX uses the SAFE technology system with sophisticated flight control software to keep itself stable in a hover while in stability mode. If you get in trouble, just let go of the sticks. The SAFE technology system will bring the Nano QX back to a hover all by itself. Once you've mastered the basics, you can switch the SAFE system to agility mode for faster flying speeds and more maneuverability. SAFE stands for Sensor Assisted Flight Envelope and is central to the performance of the Nano QX.
---
Received 4.7 stars out of 5 in customer reviews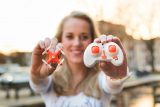 Our #1 pick for Best Nano Drone with Camera Since the SKEYE Nano Drone uses a direct controller rather than an app, you can fly it with far more precision than larger, more expensive models. Zip it around your living room, or take it outside. And thanks to the inbuilt camera, you'll be able to see precisely what your drone sees.  Out-of-the-box ready: Charge up your drone with the included USB charging cable and get flying within 30 minutes. And with an inbuilt 300.00-pixel camera and included Micro SD card, you're ready to start filming your flights right away. The journey of your drone flight can be re-lived seconds after landing!
---
Here is another good drone under .55 pounds for Kids
Received 4.8 stars out of 5 in customer reviews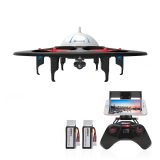 The DBPOWER UDI U845 series is perhaps one of the most well-known brands of drones in the market. It has won tons of awards and for a good reason. The performance they deliver is incomparable. Perhaps the most impressive one among all of the others in the series is the DBPOWER UDI U845 HD drone with video capability. There are lots of other drones that capture video as well, but this one is capable of capturing HD 720p video footage. It also features the now well-known six-axis controlling mechanism. It has an extreme impact resistant body as well and comes with a 'unibody' design. The camera that comes attached to the drone is also removable thus allowing the user to do tricks and flicks with the drone.
 WiFi Camera: Achieve Real-time FPV by Connecting with IOS or Android via WiFi Real-time Video Transmission. the best drone under 250 grams No FAA Registration Required
Gravity Induction Mode: Allows You to Fly the Drone Forward/backward/left/right in Correspondence to the Angle of the Mobile Phone

UFO Stylish Drone: Not Only Tough and Lightweight but Also Safer and Easier to Fly

Headless Mode and One Key Return: Makes Easier Flight and Better Control, No Worry about Drone Missing

Easy Safe Fun to Fly: The Headless Mode, One Key Return, Low Voltage Alarm, Speedy charging time: 50 mins,
Playing time: 9 mins, 360° Flips Function Ensure You Fly at Ease, Fun and Safe, No Worry about the Drone Fly Away.
When it comes to the best new drones under $150 for 2018, this is an excellent choice to put on your check-list.
Ideal for professionals looking to maximize post-production workflow
Read speeds of up to 95MB/s; write speeds of up to 90MB/s

UHS Speed Class 3 (U3) and video speed Class 30 (V30) for 4K UHD video

Shock-proof, temperature-proof, waterproof, and x-ray-proof

Lifetime Limited Warranty