The US Army has ordered the next-generation Black Hornet 3, which weighs 32 grams and packs navigation skills for use in areas beyond GPS coverage.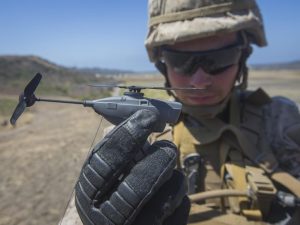 The drone, which has advanced image processing from earlier versions, and can fly a distance of two km at over 21 km an hour and carries a thermal microcamera. The arrangement marks the US Army's first because of its Soldier Borne Sensors program, which aims to provide military personnel with more awareness of their environment using drones.
Selecting the Black Hornet drones" represents an essential opportunity to supply soldiers in every U.S. Army squad a vital edge on the modern battlefield," Flir CEO James Cannon said in a statement. The US Army bought Black Hornet drones from Flir for testing and evaluation in 2016 and 2017 and will continue to evaluate and roll out more drones for many infantry units.
In 2015, the Army special forces examined some of the palm-size PD-100 Black Hornet drones from Norway's Prox Dynamics. Flir is renowned for its thermal imaging camera technology, which it has been incorporating into drones.