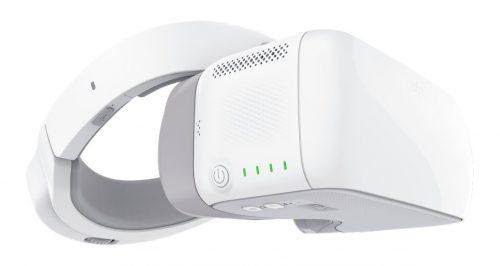 When it comes to DJI Goggles, it has been receiving an enormous amount of publicity since it was first announced and eventually released. And why wouldn't it? It is one of a unique idea that has been published in recent years and considering how the craze for virtual reality has evolved in the past decade; there is a tiny reason not to understand why this has been such a big hit.
Not only that, but DJI also announced that it would be packaged alongside the Mavic Pro, and as a result, people have just not stopped talking about this. There are very few other products in the market which can offer you such an excellent deal. However, this is not such a surprise because there aren't many FPV goggles available out there in the market.
What are DJI Goggles?
If you want to have a basic idea about these goggles, you should check out the Oculus Rift which is a device that shares a ton of similarities to this one. Both of them are similar in their functionalities, and as such, both of them share similar features as well.
The Goggles from DJI are just like the Oculus Rift but come with 2 screens of 1920×1080 screens each.
As such, the number of pixels is greater than most other headsets in existence. But that's not all. These aren't just a pair of beautiful screens to look at. On the left-hand side, you will see that there is a touch pad of capacitive nature. When you put on the headset, you will get to see a video feed in HD along with a HUD (short for Heads Up Display).
The HUD, of course, contains a lot of valuable information regarding your system and other details as well. You will find a ton of settings that you can play around with and change on the go. Using this touchpad, you can change a lot of settings which include the likes of your camera and exposure balance. The best part is you can do this without ever looking at your controller in the first place.
Not only that, you make use of the 5D buttons along with the ones on the back of the controller to navigate around. This means that your hand does not ever have to leave your controller at any given point of time. Also, this Goggle makes use of a technology called OcuSync which is used to communicate with the drone in a direct fashion.
This apparently means that there is extremely low latency compared to other systems at 1080p video quality. This is of course also applicable to all video qualities like 1080p at 30 fps, 720p at 60 fps, 720p at 30 fps, etc. Shooting at 4k is also quite an option with this device. You would think that this is a department where this device might have disappointed in, but that is not the case.
Get the Best Price on the DJI Goggles
So how much will these DJI Goggles cost you? This is without question the most asked question on the internet ever since it was announced to be released. Considering there is no other similar device being released right now in the market which can prove to be a threat to it, the price is pretty high compared to what people may have expected or wanted for themselves.
As far as the pre-order is concerned, you can get this product for $449 in total. Of course, you will have to wait until the final date until it is shipped to you. If you are interested in this product, there is no reason to hold back off on order. However, if you are a cynical person like I am, you should stick to reading about its performance from other reviewers before making a final decision on the purchase.
The release date for this product was on the 20th if May in 2017. So have you been able to grab your copy of the product? I sure have, and it is definitely worth the price, if not more. Well technically, it depends on the person. For someone like me who is a techno geek, there is nothing more enjoyable than unwrapping a box full of electronic gadgets. And considering this device is something well and truly unique, the satisfaction was like none other.
DJI Goggles – Appearance
So how does the thing look like actually? For me, it looked incredibly stylish and well made at first glance. It is overall very spectacular in build as well as appearance and overall makes an excellent first impression on anyone. The device comes in 2 main parts:
The headband itself is made out of soft materials, making them easy to press and bend. But just because it is soft does not mean it is not durable. It is very sturdy in nature as well and also feels very comfortable when using it. That is mainly down to the fact that the insides are made of padding, and a knob is also added there for better fitting and adjustment.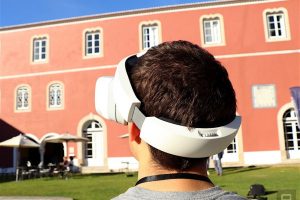 The first thing I noticed about this product is that these 2 things do not fit perfectly, at all. Perhaps that is not the best way to say that. The thing is, it feels as though they are just a bit too heavy for each other. For instance, the part of the goggles which are supposed to fit right over your nose top feels like it weighs down on it a bit too much. However, I easily got used to it with time.
You also need to take into consideration the fact that you first need to charge the goggles after connecting the two parts. You will find that they can be easily connected without the help of any tools whatsoever. That is the best part of this device according to me. On the left-hand side of the goggles, you will find a vent for releasing heat, a speaker and also a slot for different ports like the HDMI port, 3.5 mm jack and a memory card (micro SD).
The right-hand side of the goggles is far more interesting though. You will find a lot of other things which are crucial as far as the device is considered overall. You will find the main power button, the speaker itself and the area for the touchpad towards the middle. You will need this touchpad to navigate through the menus along with the 2 additional buttons on the side.
You also find a black colored sensor in between the 2 extra buttons on the side which I just mentioned above. It works as a save for the battery by making sure that the goggles are shut down if anyone is not wearing them. Once you do wear it, however, it will turn itself back on immediately.
Not only that, but you will also be able to use the distance in between the lenses with the help of a knob which is located on the sides. You will also discover that there is an indicator for the charging LED on this side of the goggles. The terminology used is also natural: Red for the dead battery, Yellow for charging, Green for fully charged. The port for charging is also found here.
Performance
So how good are the DJI Goggles when it comes to overall performance? The best part about these goggles is that they are not bound completely to the Mavic Pro when it comes to their performance. They are independent in nature and can be used alongside other models as well. But I will talk more about that later on.
You can pretty much perform all of the functions that you normally would on any another device similar to this. For instance, you can change all of the settings and features according to your needs with the help of the software built in. Some of the most common features that are present include:
Active Track
Tap Fly
Terrain Follow
Tripod Mode
Also, you will be pleased to know that the camera is also very flexible regarding use and functioning. Connecting online is also seamless and incredibly easy to do. Pairing up with other drones is also a simple task and setting up everything takes only a few minutes. Overall, there aren't any major issues that are present in this set of goggles.
Advantages of DJI Goggles
Considering the enormous amount of money you need to spend to get your hands on this device, there should be a ton of benefits of using it right? For me, it felt like something I had never experienced before. It felt so real; I could not describe it in words. Not only that, everyone I know shared the same expression and emotion when using it.
The FOV or the Field Of View that these goggles have to provide is enormous compared to other products which are similar in the market. It provides a vertical FOV of 90 degrees while the horizontal FOV is capped at 120 degrees. Both the FOV's on both the axes are locked by the capacity of the human eye.
Another incredibly fun feature that this device has to offer to you is that of head tracking. This is existent in any goggle device and is required to detect the movements of your head to pan the camera around. It is the efficient method of shooting a video, but it can be more fun. So make sure to play around with it a while just like I did.
Last but not the least, you will find that these goggles have extremely high amounts of efficiency when it comes to recording videos. In most drones, the sun gets in the way of you taking a shot. However, that is not a problem anymore because these Goggles will help you block out any sunlight. The colors remain bright, are not washed out, and you can see every detail in the richest texture.
Motion Control
One of the biggest features of these goggles happens to be that of motion control. This is without question one of its largest selling points, and it comes in main modes:
As the name suggests, this mode allows the user to take full control of the drone. This is also done by using your head to tilt the camera around. The rotation is very nicely done, and you will find it to be smooth and without any awkward FPS drops or difficult sensations.
In this mode of control, you will be able to take control of only the Gimbal and not the drone itself. The effect is incredibly gorgeous, and I appreciate it. The rotation also occurs in real time and thus helps the user to immerse himself or herself in the experience fully.
Overall
Overall, the experience that the DJI Goggles have to provide to users is one of the unique and breathtaking ones till date. The idea is fresh and something which demands a lot of attention. After all, the concept of virtual reality is something which is only being realized since the last couple of years. It is still very much in its infant state and as such, will take some time before it can be completely perfected.
However, for an idea that is so illusive in nature, this device hits the sweet spot at least for now. The user can have nothing really to complain about it in the current state that it is in. You too can help improve the overall experience in the future by taking part in it now. So what are you waiting for? Come to our Store or visit our website for getting the wonderful experience of this Goggles. If you want to buy, then you have to pre-book at our store.