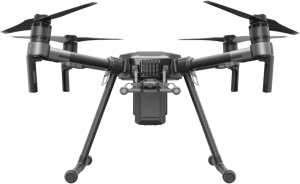 Yes, DJI is at it again with the Matrice 200 Series drone. This  drone fold down in a snap and unfold just as quickly. Gimbal mounting plates and aircraft arms stay mounted during transportation so that you're ready to fly within a minute. Now you can have two camera running at the same time and with the DJI Matrice 210 RTK Series you can also have a camera mounted on top of the drone.
Key Specs
Dual Battery (Heats battery when flying in sub-zero temperatures)
IP43 level Ingress Protection – Aircraft will know exactly where you at and will make sure no two aircraft in the same air space.
Cameras up to 30 MP Resolution – Video Resolution: 4K at 60 FPS
Dual-Operator Mode: Support Multiple Camera Systems
Max Flight Time: 38 minutes with no Gimbal (Camera Kit)  1 Gimbal 32 minutes and 2 Gimbal 28 minutes
Additional Key Features
4.35 Miles Operation Range
Max Speed: 55 mph (22 m/s) in ATTI mode, no wind
Notable Attributes: Dual-Operator Mode, Multiple Camera Systems
Weight (Battery & Propellers Included) 8.80 Pounds
4.5 lbs. Max Payload Capacity

Aircraft size 28.189 Inches x 8.661″x 9.291″
The DJI Matice 200 Series High-performance motors paired with 17-inch propellers ensure stable flight in strong winds. With the new dual-battery power system automatically heats batteries when flying in sub-zero temperatures, while an enclosed design ensures weather and water resistance, so you can fly in a wide range of environments.
Battery (Standard)
Model
TB50
Capacity
4280 mAh
Voltage
22.8V
Battery Type
LiPo 6S
Energy
97.58 Wh
Net Weight
520g
Operating Temperature
-20°C to 40° C
Storage Temperature
Less than 3 months: -20° C to 45° C
More than 3 months: 22° C to 28° C
Charging Temperature
5 ℃ to 40 ℃
Max Charging Power
180 W