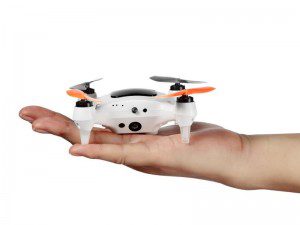 Which is the best Nano Drone with Camera? Onagofly nano drone! Nano drones or nano quad-copter is the new toy in the tech market. It is definitely a fine example of great advancement in technology and it holds a lot of potential for future utilities. But in the drone market, there are two types of drones available- one that can hardly do a few things and comes at cheap price and one that has a lot of features but comes at a very high price.
Received 4.7 stars out of 5 in customer reviews
Colors: Black and White
However the new ONAGOfly 1 plus, slated for a full launch in 2017, promises to be a blend of both the types and can bridge the gap between price and features. So what does it offer?
Features of the Best Nano Drone with Camera
ONAGOfly comes with many cool features at a reasonable price. Some of its headline features are:
High Resolution Camera:
It is equipped with a high resolution camera of 8 MP that is capable of taking pictures comparable to the picture quality of iPhone 6s. It records video at 1080p at 30 fps.
GPS:
One of its coolest features. It has GPS navigation technology which means it can follow you overhead with the help of GPS.
Obstacle avoid:
With the help of infrared it automatically avoids obstacles and flies around walls or trees.
App control:
It is easy to manoeuvre and sync videos and photos instantly with the help of the ONAGOfly 1 plus app. The app runs on android and iOS and connects with the drone through Wi-Fi.
Video streaming live:
It has the feature to stream live videos on remote accessories like mobiles or laptops with the help of Wi-Fi without any delay.
Battery life:
It have a fly time of 10 minutes, which is 2 minutes more than an average nano drone.
Smile detection:
It has the smile detection technology which helps it to take pictures when someone smiles thereby capturing the special moments.
What you get?
Considering the features that it provides and its price range, Onagofly 1 plus nano drone is definitely one of the best products in its range. It is very lightweight and hence highly portable. It easily flies off from your palm with one button activation. Most amateurs face problems while manoeuvring a drone, but its obstacle avoid feature prevents it from crashing into obstacles. It detects obstacles at a distance of 20 cm with the help of infrared. It's Return home feature brings it back to its take off position.
It is also equipped with a camera that is slated to take picture at every angle and the smile detection feature makes it even more useful. Its GPS navigation allows it to follow you through GPS navigation. It is claimed that it can achieve a top speed of 29 miles per hour and hence can follow you while you ride a bicycle or run.
Nano Drone with Camera-It also has a battery life of 10 minutes which is almost 15 percent more than any average drone. Overall, it can really give the world of drones a real spin if it performs as expected and is definitely the product with the best available features in its price range.
Onagofly Review