DJI Mini 3 Pro Accessories is a must-have if you are an overachiever with your toys. If you are looking for a perfect companion for all your adventures, you are probably on the right platform. DJI mini 3 pro is a powerful compact device that can take your experiences to unimaginable heights. This DJI mini 3 pro drone has an omnidirectional binocular vision system with an infrared sensor supplemented at the bottom of the aircraft, enabling it to capture shots that restore the essence of your adventure.
But here is a twist in the plot, you can pair a lot of DJI Mini 3 Pro Accessories that maximize the adventure and expand your creativity. So, in this article, I have explored everything from charging the battery to creative kits.
The 24 Best DJI Mini 3 Pro Accessories are:
Low noise propellers.
Propeller holder.
Intelligent flight battery.
Battery charging hub.
SanDisk micro SD Card.
DJI RC Pro.
DJI RC-N1 remote controller tablet holder.
DJI RC-N1 remote controller monitor hood.
DJI Mini 3 Pro ND filters.
Wide-angle lenses.
Propeller guard.
Care refresh.
Tablet Holder Accessory for Mini 3.
Car Charger.
Fly more, Kit.
DJI Smart Controller.
Hanging Strap & Bracket.
Shoulder Bag.
Mini 3 Pro Antenna Range Extender.
Gimbal Clamp.
External Hard Drive.
Landing Pad.
Hard Case.
Gimbal Mask.
The DJI Mini 3 Pro Accessories can be categorized into four types
1. Mini 3 Pro must-have Basic accessories.
• Low noise propellers.
• Propeller holder.
• Intelligent flight battery.
• Battery charging hub.
• SanDisk micro SD Card.
2. DJI Mini 3 Accessories for advanced operations.
• DJI RC Pro.
• DJI RC-N1 remote controller tablet holder.
• DJI RC-N1 remote controller monitor hood.
3. DJI Mini 3 Pro Accessories for advanced imaging.
• DJI Mini 3 Pro ND filters.
• Wide-angle lenses.
4. DJI Mini 3 Accessories for added flight safety.
• Propeller guard.
• Care refresh.
DJI Mini 3 Pro must-have essential accessories
These are the accessories that are considered essential for the satisfactory and long-term working of the drone. With the help of these products, your drone will be more protected, safer, and better equipped without spending money again and again.
DJI Mini 3 Pro low noise propellers: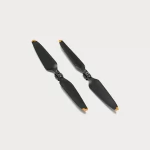 Drones are always with its owner to capture the moment. But in the previous reviews, one thing that has been noticed is the buzzing sound of the drones. Due to this reason, DJI has manufactured low noise propellers for the drones to make the moment more special. Who wants to ruin the moment with the loud buzzing sound of propellers. Whether it's a family gathering, formal event, or mountain hiking, these low sound propellers are always there to spell the magic. These are specially designed to kill this buzzing sound. However, they are small, and experts flow or quite a flight. Check the Best Price Online
Do you think the DJI mini 3 is sacrificed due to these compact and small propellers? Then you're probably mistaken. This low noise feature does not come at a sacrifice, but the DJI mini 3 provides more polished features. These propellers offer strong thrust for exceptional aerial performance, making them the desired accessory for your drone.
One of the noticeable features is that the low-noise propellers of DJI mini 3 are stronger and more rigid than the previous products. Not just this, but these propellers also provide lower power consumption and safe flight through their safety design and reduce the probability of accidental damages.
Some of the features areas:
• Avoid disturbance during shooting through low noise.
• Provide longer flight time through lower power consumption.
• Prevent accidental damages through its safety design.
Propeller holder: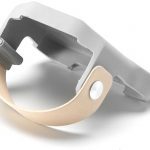 Have you ever experienced the loss when a perfect moment was to record, but you didn't because you searched for your propellers? If yes, then this accessory is for you.
This propeller holder is another simple but essential accessory for the advanced functioning of your drone. This propeller holder is available in beige or charcoal, acting as a belt or backpack. Check the Best Price Online
These propellers are simple; you can attach them to your DJI mini 3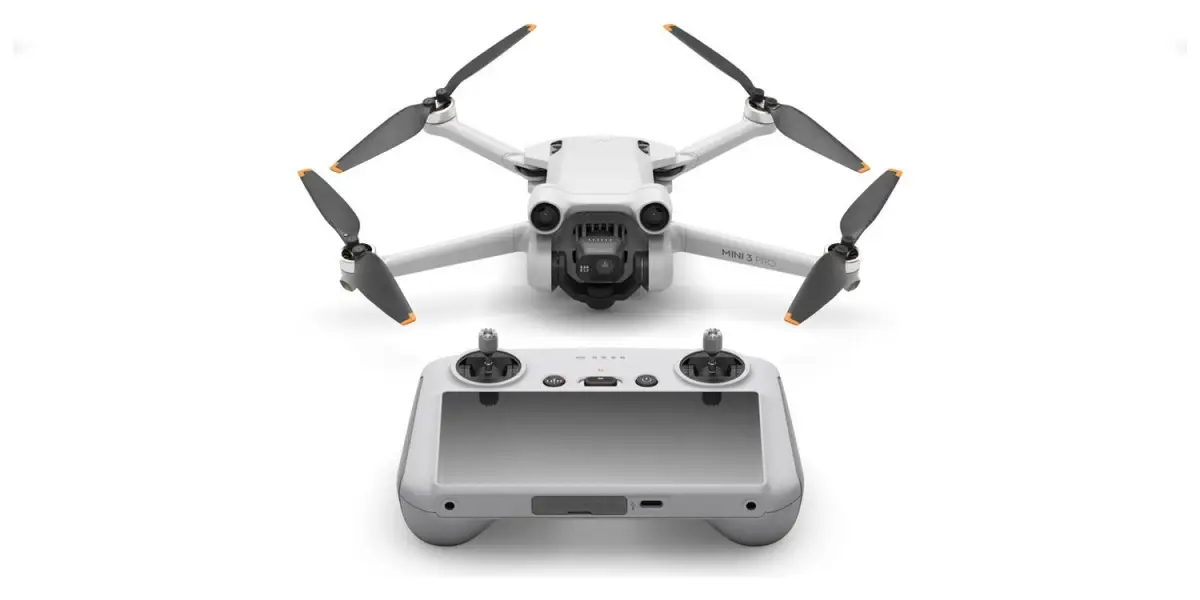 . After this, the propellers can be appropriately packed inside them. This would help in easy transportation and storage. However, we can say that it is the perfect tool for peace of mind and quick access on the move. One thing that should be noticed here is that the propeller holder for DJI mini 2 and DJI mini 3 are the same.
• Provide easy transportation of propellers.
• Prevent damage to the propellers.
• Provide quick access.
Intelligent flight battery: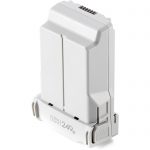 Do you think content creation is an easy task? Then you should know the fact that these content creators spend hours in the area and then create a creative video. In short, we can say there is hard work of hours and sometimes days behind a single piece of video. But what if the constant fear of low battery limits these content creators. Yes, it would directly ruin the outcomes and the time spent on the adventure. Check the Best Price Online
For these concerns, an intelligent flight battery is introduced by the DJI. This battery is designed with unique features that provide more flight time, keep the airborne quality higher and provide mental ease to the content creators.
You might be thinking why there is the word "intelligent" with the battery. This battery estimates the power in real-time and relaxes the creators. While the content makers focus on the adventure, this battery works.
According to the DJI experts, this one intelligent battery enhances the flight time to 46 minutes and allows you to record epic moments of your adventure.
The features of an intelligent battery are:
• The total capacity of 5000mAh.
• Provide flight time up to 46 minutes.
• One battery also provides a total of 40 minutes of hovering.
Battery charging hub: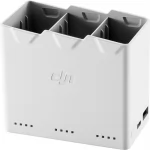 What if your adventure is more than 46 minutes, and you need more battery for proper coverage? Then for this concern, the charging hub is here to fulfill the duty. These charging hubs provide the chance to charge three simultaneous batteries just in one go. You don't require plugging or unplugging these batteries again and again. This hub requires 4.5 hours to fully charge your drone again and take the drone into the skies. Check the Best Price Online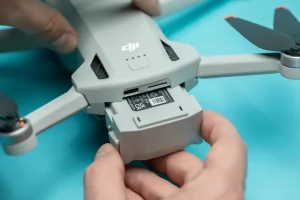 This hub first lets the drone use the remaining power to fly and then quickly gets you back in the air by charging the drone. However, this hub only weighs 80g, and you can charge your smartphone, drone tablet, or anything with it.
• Automatic charging of batteries.
• One can charge three batteries at a time.
• No need for plugging and unplugging again and again.
SanDisk SD Card: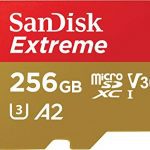 It would be a disappointment to imagine a perfect sunset, but we lost it because we were out of storage. However, this disappointment became a one-time thing using this SanDisk SD card. This SD card can provide massive storage for your perfect shoots.
What SD card does the Mini 3 Pro use?
This SD card is designed with high speed, durability, and safe storage to ensure the safety of your photos and videos. The write speed starts at 60 MB, whereas the read speed starts at 100 MB. Check the Best Price Online
• Support long-term 4k video recording.
• Exceptional high-speed performance.
• Durable in a hot and cold situation. Moreover, this SD card is waterproof, x-ray proof, and shockproof.
DJI Mini 3 Pro Accessories for advance operations
Not every time, the flight is smooth, and the adventure is easy. Sometimes, obstacles like intense lightening, signal obstructions, screen lag, or low lightening make the shoot more complex, time-efficient, and energy-consuming. The DJI introduced professional accessories to solve this problem, making life easier.
DJI RC pro: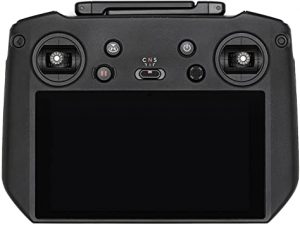 DJI RC pro is designed for specialized aerial photography and runs smoothly and smoothly and stable. This device contains the latest generation processor along with expanded capacity. It allows the user to have unparalleled control over the device as it is built with o3+ transmission technology and the control design of DJI FPV for precise recording. Check the Best Price Online
The o3+ enables the user to have a 1080/60fps live feed almost 15km away from the user. The 2T4R antenna also aids with the signals that keep the feed smooth. Not just this, but the DJI introduces 5.5 inches screen with 1000 nits brightness enough to use on a bright sunny day. Through this feature, the shadow details are also enhanced for clear display.
Not just this but the intelligent processing results in 7x improved GPU performance, 4x enhanced CPU performance, and 20% lower power consumption over its predecessor. Other features are an instant start, fine control, and outstanding video and audio components.
• At low latency of 120 ms, it provides up to 15km transmission.
• 1000 nit high bright screen.
• FPV control sticks for high precision, smooth control.
DJI RC-N1 remote controller tablet holder: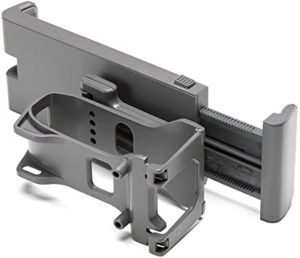 This product made aerial shooting with a tablet more effortless than the difficult. You can easily connect your tablet with this device and have complete shooting without any difficulty. This device allows to mount a 7-10 inches tablet firmly on it and thus experience the whole video recording on a large screen. Check the Best Price Online
It does not just provide a vast screen recording experience, but it does allow the user to have a reliable backup when their phone is out of order.
• One can use it with DJI RC-N1 remote controller.
• Provide exceptional opportunity to mount 7-10 inches tablets on it.
 DJI RC-N1 remote controller monitor hood:
Do you experience the shooting blindly on a bright sunny day? If yes, you would be aware that there is no other choice in such a situation than to settle for no more shooting. However, DJI has solved this problem too. They have come up with this simple but exceptional product: a monitor hood. Check the Best Price Online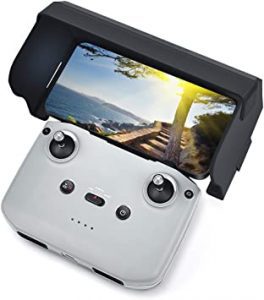 This is an essential item, and if you're handy, you can make your own. However, you will buy one and have no regrets. On a sunny day, glare affects your phone/screen; the tablet's making intricacies and tiny numbers of information in the corners difficult to read. It's even more challenging to notice details if you apply a screen protector with scratches or cracks.
Your screen visibility is greatly improved, but you can also lessen the brightness of your device to save battery power by utilizing a sunshade. The one I have is foldable and takes up no room when not in use.
It saves the user from disappointment caused by ruined footage of over-exposure to the sun. a monitor hood can aid in this regard by reducing the interference.
• Control screen glare due to sunlight.
• Accurate exposure for better results.
DJI Mini 3 Pro Accessories for advanced imaging:
You cannot use every image for professional photography. But for professional photography, advanced imaging accessories by DJI should be used.
DJI Mini 3 Pro ND filters: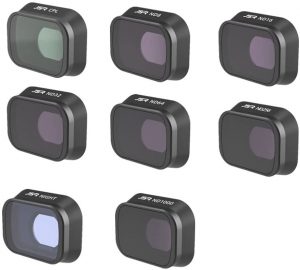 Filters are a must-have for anyone who enjoys shooting videos. These filters are a piece of glass that fits over the lens of a camera and allows you to record video at slower shutter speeds, larger aperture, and in-depth footage.
The DJI Mini 3 Pro ND filters are used for extended exposure to capture something in a completely different environment and something different. One can reduce the light and use a slower shutter to prolong exposure time. Through these filters, you can also reduce noise in the nighttime. They can use them for larger aperture, lesser light, and more depth scenes. Check the Best Price Online
You can set your shutter speed to twice the frame rate while capturing cinematic video for those new to filmmaking. You can perform the math, but keep in mind that video filmed in daylight will be overexposed. You'll get shaky footage if you increase the shutter speed.
Adding an ND filter to your lens seems the only way to hit the perfect spot for cinematic footage at 24fps. A neutral density filter lowers the light hitting the sensor, enabling slower frame rates. They are graded on a scale of one to ten, with the greater the number, the deeper the filter. This Freewell filter set is quite popular and caters to various requirements. Because ND filters are essential, they're frequently required and may even supplant accessories.
• Aids in reducing light during the day,
• To enhance the blurring effect, it provides a large aperture.
• For less noise, it offers lower IOS.
Wide-angle lenses:
If you want to add some magic to your shoots, consider these wide-angle lenses for your DJI mini 3. These lenses can be helpful when you find your shoots too ordinary. This accessory is something that can help instantly.
• You can get an angle of 108.
• Adds eye-catching magic to the images.
• Enhances depth.
DJI Mini 3 Pro Accessories for added flight safety:
Drone accidents are something no one wants, and for this reason, DJI mini 3 pro comes with advanced features. But for protection, you can also use added accessories.
DJI Mini 3 Propeller guard: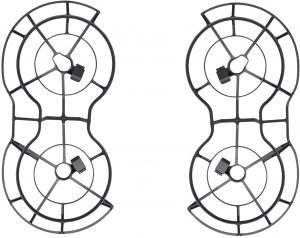 These propeller guards cover the propellers to avoid bumping and other issues. However, many pilots regard these as useless training wheels once you've honed your flying skills.
Having a set like these in your Mini 3 pro kit, on the other hand, can mean the difference between flying comfortably and not. Alternatively, record the video you require. Guards may overcome craggy rock outcrops, a forest full of trees, or propellers could smack anything else. Prop protectors can provide peace of mind for a low price, but you must consider how much they add to your mini's 249g weight. Check the Best Price Online
• Avoids accidents.
• Prevent from bumping into obstacles.
• Provide reliable mounting and releasing.
Landing pad:
It's tempting to disregard the value of a landing pad but think about these arguments before dismissing them. A brightly colored landmark makes it simpler to see from 400 feet during a manual landing. This can be discovered while flying on a snow day.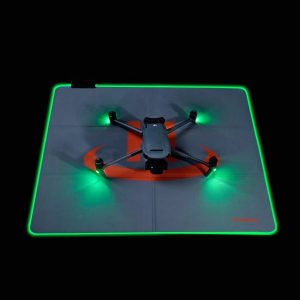 Fortunately, the bright red landing pad shone against the white snow like a beacon. Another reason for considering a landing pad to be one of the more critical DJI Mini 3 Pro accessories is that it keeps the drone clean. You can utilize a landing pad to keep dirt, stones, grass clippings, and other debris away from the soft underbelly of my Mini, even if it's in a visible location. Check the Best Price Online
DJI Care refresh:
DJI care refresh is the accessory that protects you from mental stress and cares for your finances. With this feature, you can replace your product if any accident occurs. Not just this, but this service also provides other benefits like discounted repair, rewards for safe use, and factory maintenance.
Protect you from the stress of water damages, crashes, or accidents.
Within a specific period, you can have multiple replacements.
Other benefits like a reward for safe use, factory maintenance, and discounted repair are also available.