If you have bought a Mavic 2 Pro or Zoom, then you may notice and can't ignore that DJI newest drone has a few problems. We all love the new drone and I am to tell you don't you worry anymore! Most of these problems don't need for you to call customer service at DJI. Considering your anxiety, we are here to assist you with how the problem arises and how you can get the solution to it.
In this article, we are going to discuss some of the major issues of your DJI Mavic 2 and how to repairs all of these problems. So keep reading!
Mavic 2 Problems are;
Gimbal glue issues
Obstacle Avoidance Sensors not responding
Sensor Over Heat
Landing issues when flying above the water
SD Card Issue
Barrel Distortion
Firmware upgrade problems
The Mavic 2 is such a drone that is small but more powerful, and it helps you to get the places where you can't go directly, but you can get the excellent taste of the areas using the Mavic 2 Pro. It quickly turns the sky into your fancying canvas and fills your every moment with funny feelings.
The DJI Mavic 2  has a compact size which helps it to hide the vast dimension of its complexity. And this great feature makes DJI's one of the most sophisticated as well as highly powerful flying cameras ever. You will be pleased to know that recently DJI introduced the Mavic 2 Pro and the Mavic 2 Zoom.
They are built with ten obstacle avoidance sensors on all sides, and they have a max flight time of 31 minutes. Also, the drones can record 4K video at 30 FPS. The Mavic 2 Zoom has launched with an unusual dolly zoom feature and the 12-MegaPixel camera. At the same time, the Mavic 2 Pro comes with a hyper timelapse feature.
The DJI Mavic 2 Problems
Now comes to the DJI Mavic Pro problems and repair which we aimed to matter of discussion and this is why you are here till now. There are many common issues may happen with your Mavic Pro. You will wonder to know that the pilot's errors can occur most of the problems of a Mavic Pro. It is also seen that many people are using Mavic Pro for a long time, but they didn't face any kind of trouble.
After completing considerable research on DJI Mavic 2 problems and repair, we have identified some of the unique issues that most of the Mavic users face in trouble with these.
So. let's make a tour of the DJI Mavic Pro problems and repair so you can take care of yours!
DJI Mavic 2 – Camera Glue Issues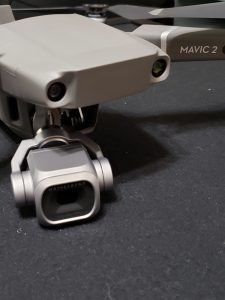 A user shared the problem with a Facebook group, and then it spreads panic to the DJI Mavic 2 Pro owners. It's a matter of concerning issue to face a camera glue problem with your DJI Mavic 2 Pro! The problem is not similar to any other problem. DJI's responsibility doesn't match with this issue, and at the same time, the manufacturing company is running its business with name and fame for decades. When the owner experiences the problem and then instantly, DJI replied about the issue.
They said "The gluing process has passed comprehensive and rigorous testing to make sure it matches the high-quality standard that DJI sets to ensure we deliver a safe product that can be used with the utmost confidence. For the case, you reported DJI has promptly investigated the reason for the accident and handled the issue appropriately. If you encounter similar problems, please do not hesitate to contact us. Thank you for your understanding and support."
Then you can think that glue is alright, but it's a matter of sorrow that some of the users are skeptical about the long-term reliability of the drone. When the Mavic 2 has been already in hand of people, then a person claimed about the gimbal that was broken. It will be so unfortunate if the problem lies in others that manufactured according to the same method and same date.
DJI's responsibility doesn't mean that they are using unsafe and outdated methods of attachment. Think of a simple gimbal as the Mavic air which is closed to the design with Mavic 2, both of them have a single screw as a backup which holds by dint of so-called glue. If they use 1 or 2 additional little screws then what will happen with this? It is so negligible the weight of those screws. At the same time, they used the Phantom 3, but they should have used Phantom 4 Pro!
You will be glad to know that DJI has taken this issue seriously and already they have handled it correctly. In the meantime, they strongly recommended informing the DJI customer service if any owner faces this issue somehow. Now we may discuss the next issue!
Obstacle Avoidance Sensors not Reacting
The DJI Mavic two is famous for its obstruction avoidance capacity.  It's obstacle avoidance detectors in most areas of their human body.  These detectors form a substantial portion of their Mavic two's value proposition.
Thus, if such detectors do not do the job, then this will make a good deal of stress among the consumers of their Mavic 2.  You ought to be aware that the unwanted sensors of the Mavic two are sole cameras whereas the front-facing detectors are 3D vision detectors.
The only cameras are much less reactive as the 3D vision detectors.  They're just operational at reduced drone flying rates.  Therefore, the side detectors are only practical from the Tripod and Lively Track manners.  Thus, you ought to keep a watch on exactly what flying style you're in when seeking to check the performance of all of the barrier avoidance sensors.
Option: This difficulty could perhaps be repaired with future firmware updates.  But, there's not any requirement to call customer support as the remedy to the predicament is only shifting the flying style of this Mavic 2.
Mavic-2 Pro – Sensor Over-Heat Solved With Line Skipping in FOV Mode
Cliff a youtube man realized that this issue is larger than we thought. He said he isn't positive if DJI did so to set a gap between the Phantom 4 Pro 2.0, the new forthcoming Phantom 5 or its because the using the full sensor makes the sensor overheating. Hear our version of his story below.
WOW… I know this isn't the results we're hoping for, but let's be super realistic. It is amazing that DJI crammed a 1-inch-type sensor in a super miniature camera block. . . and kept it cool enough to not melt. Despite the fact that there are some resolution problems in 4k, there's nothing else like it now in a drone. Mavic 2 as a comprehensive product is a fantastic deal. You get a superb aircraft that has no equivalent in flight control and avionics. Yes, the Phantom 4 Pro 2.0 camera defeats it. However, for many people, the Mavic-2 Pro HQ mode is perfectly fine! The Zoom version is amazingly versatile and a good camera. I'm a big fan of this item. No doubt. I am the guy that made this movie below and even "I" am saying the Mavic-2 Pro is a wonderful overall product.
Landing Problems when flying over water
There are a few instances of drones trying to land on water if it's flying in low heights over water bodies. Flying 15 feet above water bodies leaves the drone to feel that it ought to land mechanically. This issue happens since the optical VPS detectors (on the other side of the body) are influenced by the expression of light on the surface of the body of water.
This matter isn't merely a DJI-specific problem, but a thing that may impact many other drones too. Option: DJI includes a best practice manual that each drone user needs to read before flying their own drone.  Among many strategies and recommendations, in addition, it suggests being careful if flying under 15 feet of water bodies.  If you may stay away from such low heights afterward will instantly resolve the issue.
Mavic 2 SD Card Issues
Some people are having problems with their SD cards in Mavic 2. Their drone not reading or system keeps saying running slow.
How to fix it? Do you need to check if it is actually seeing the SD card first? When you first inserted the card in the M2P it may not see it. If you get the original on-screen message asking if you wanted to use the card as primary storage? Say yes!
But if you have used the drone with the SD card to get a ton of footage, now suddenly it starts reading Red "Slow SD Card".
How to fix this? You need to remove the card while the drone is on, then shut the Mavic 2 down and remove the battery for about a minute. After reinserting the battery, power the M2 back up and try the card again, this should fix your issues.
Make sure you updated the firmware to the latest version as well.
The Mavic 2 Pro has a lot of barrel distortion
Are you feeling a lot of barrel distortion when you want to shoot video in Full FOV Dog-M? We are discussing on DJI Mavic Pro Problems And Repair, and now we are going to introduce the issue named barrel distortion.
The main attraction of having a DJI Mavic is that you can shoot video at your will. If it doesn't happen then the experience of using DJI Mavic 2 will be not so good as your desire. Sometimes the camera may not work as it usually works and it may not show the standard color mode.
At the same time, it may show up in dialogue there as mmm and hybrid log grama modes on the screen on your phone display and right there what you are seeing as you're flying distortion corrected, but nothing has been done. When we went to the DJI forum to look for the solution of the distortion, then we saw the forum administrator's opinions about the problem. They said that the processing system needs to correct for the lens distortion that has to be freed up for 10-bit color.
You can check the setting, and sometimes Mavic 2 Pro's aperture settings can give you a good result if you drive it with a set hand. Fixing image distortion is tougher than your thinking, and there you can't get the curved lines. You may also see the distortion right for the middle of the frame because of the distortion can start happening from there gradually.
Also, it may happen very quickly. You know that the DJI has the standard profile which has built-in distortion correction. Applying this mode if you shoot a couple of screens with very straight lines and then distortion correction created as the result of it this will be very close to perfect. Now come to one by one how the distortion correction works, right?
Go to the regular shot there are D log and M log shot. Also, there D log MLUT that will be available soon but now applying this Mavic to distortion correction you go for the previous shot again then you do distortion correction on and after that you can compare the normal, and you will see that matches precisely!
Firmware upgrade problems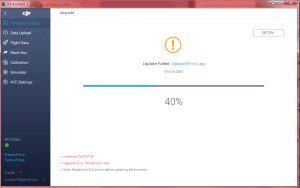 In the discussion of DJI Mavic Pro problems and repair, now we will discuss the firmware upgrade issues and its solution. If you have necessary to get firmware upgrade of your Mavic Pro but if you don't get that at the right time, then it will be a big problem for you. When you try with via a controller to finalize the firmware update or via assistant two you don't get the desired upgrade then what should you do?
If you try to get the firmware upgrade by using the android phone, then it will give you a little bit of benefit. Although it will show you that the upgrade is going on but after a while, the phone you will see the update is failed. If you try further, you will experience the same errors. Let's try to do this with the iPhone. You can try your firmware upgrade by using the iPhone.
If you want to do so, then you will need to update the DJI app first. After that, you need to restart the phone, and when it opens, then It will be normal, and gradually it will take all the updates soon. So, in the long run, your firmware upgrade problems have been successfully solved.
You have to keep in mind that all will be good when you update DJI GO 4 app and then quickly you can get the solution of firmware upgrade problems of your DJI Mavic Pro. We hope that now you are clear how to get or how to do to get the firmware upgrade. If yes, then make sure for yours!
Mavic 2 Zoom/Pro Bugs, Issues, Fixes, and Solutions
DJI offered Mavic 2 Pro and the Mavic 2 Zoom as the splendid gift to their thousands of customer, and at the same time, all of the customers are pleased having this two outstanding drones from their reliable manufacturing company. Using these super quality drones, you may face issues, and we are going to share how you can solve all of the problems.
To get a better solution of Mavic 2 Zoom/Pro Bugs, you have to download DJI assistant two programs to your computer. After doing so, you will need to hook up the drone to your device then launching the program you can easily handle the updates from your computer. There you will get enough instructions, and If you follow all of these, then you can adequately fix all of the problems that you faced after being an owner of Mavic 2 Pro.
Sometimes you may visit DJI forums for watching the conversation, and surely there you will get more information about how you will take care of your Mavic. In the discussion, you will see some people who recently have owned DJI Mavic Pro, and they can't understand some functions of it, and when they arrived at the forum to meet their curiosity. The DJI forums regarded as the DJI Mavic Pro problems and repair center for the DJI Mavic pro owners.
When you face minor problems with your drones, then you may go to them who have more experience, and you choose them who know about the specific problem. You can keep your eyes on Youtube videos to look for new words for your Mavic Pro. Also, there thoroughly discussed particular issues and how the problems happen. At the same time, you will get a solution that will help you to fix your drone in the next.
You should have to keep a keen eye on the DJI update and their new views for keeping you updated. You know DJI is reliable to provide the best service to their customers, and this is why people don't think twice before choosing DJI products.
DJI Mavic 2 Pro Issues & Secrets DJI CrystalSky!
DJI Mavic 2 Pro Gimbal Stability Issue – Gimbal Motor Overload Warning
Look at this video, Don Price a new Mavic 2 drone owner took this video on his 3 days old Mavic 2 Pro in the wind around 12mph. While he was flying sideways into the wind, the camera will give a 'Gimbal Motor Overloaded' warning and start flopping, wow! Once He turns out of the wind, it stabilizes and locks into the normal flight mode. Is there an update for this? We will see below.

Final Verdict:
In the end! How was the tour related to DJI Mavic 2 Pro and Zoom problems? We hope that you have liked what information we shared in the write-up. After completing mega-research, we have done it for you so you can quickly solve the problem that you face with your Mavic 2 drone. We have tried to show here some of the most common issues and the solution to these. You must always be careful about the problems and need to find out the best solution.
We believe that after carefully reading the above information you have learned well how you will take care of your beloved Mavic 2. On the contrary, you should remember that if you try to solve the problem of your Mavic in the wrong way, then your drone can be severely injured. And then the experience will not be good at all for you.
So, try to figure out the errors correctly and then think about how to solve. Without proper knowledge of the solution, you shouldn't do anything. We expect that you have better understood what we wanted to share with you.
Have a nice time with your Mavic 2 drone whichever models you may have!